LIQUID GAS EQUIPMENT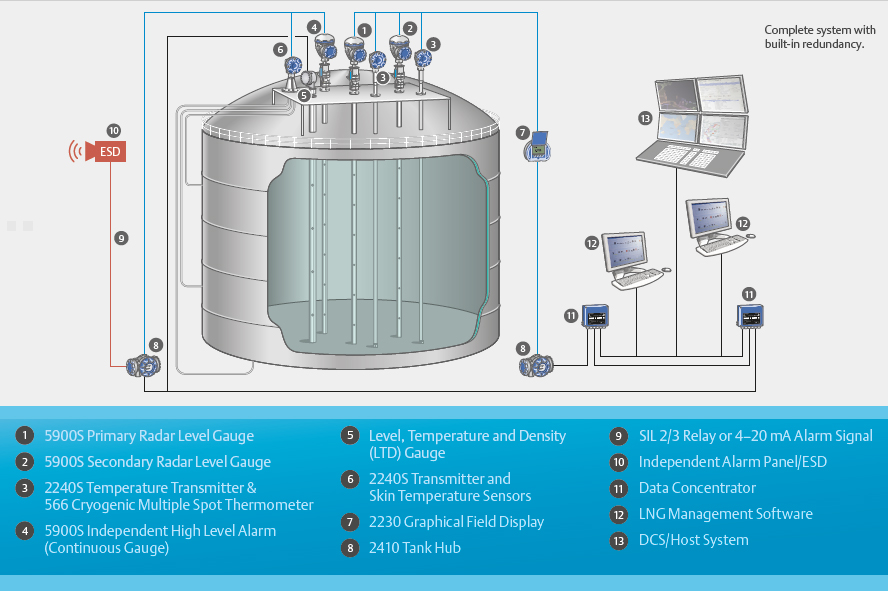 ROSEMOUNT Tank Gauging LNG Management System
Thanks to the use of an open architecture, the Rosemount Tank Gauging system lets you combine Rosemount 5900 level gauges and other measuring devices freely within your system.
We can provide you with anything from a single, ready-to-integrate Rosemount 5900 gauge to a complete LNG inventory solution. The 5900S gauge has an instrument accuracy of ±0.5 mm (0.020 in.). It is SIL 2 and SIL 3 certified for overfill prevention according to IEC 61508 Part 1-7, and it is approved according to OIML.
The Rosemount Tank Gauging LNG storage management system from Emerson provides you with highly reliable inventory and rollover prediction data including the following: level, liquid temperature, density and temperature profiles, hi level alarm and skin temperature measurement for cool down control and leak detection.​​​​​​​​​​​​​​​​​​​​​​​​​​​​​​​​​​​​​​​​​​​​​​​​​
TECNOGAS designs and installs turnkey LPG storage depots with a capacity of 5m3 or more for commercial, industrial and agricultural use, as well as canalized systems in full compliance with the most recent standards for depot design, construction and operation. Thanks to its flexible organization, Tecnogas can also carry out partial servicing operations including machine up-dates, overhauls and routine or special maintenance.
TIGHT is a worldwide known trademark in the field of compressors which has been designing and producing machines and solutions for the gas field for years. Now its technology is supported by the deep experience that the Tecnogas Group has acquired in the design and production of LPG installations during over 30 years.
ISOIL LPG Meter Terminal
- High accuracy PD meters for hydrocarbon and many others products.
- Flow rate from 100 to 4000 l/min
- Standard size: 3", 4" and 6"
- Material carbon steel
- Accuracy: +/- 0,1 %
- Repeatability: 0,01%
- Approved by many Weight&Measure offices in the world
SILEA LPG loading arms.